Sprink Break—Strasbourg; Brussels & Bruges (Belgium); Paris; Tours
During our 2-week spring break at the end of April, I spent 12 days visiting various parts of France and Belgium. It was a tiring trip but worth it!
Strasbourg
The aspect that striked me the most was the architecture in Strasbourg. The designs and colors of the houses and buildings all had a German-ish flavor to it, which I guess is not a surprise since Strasbourg is about 10 minutes from the France-Germany border.
Notre Dame Cathedral in Strasbourg: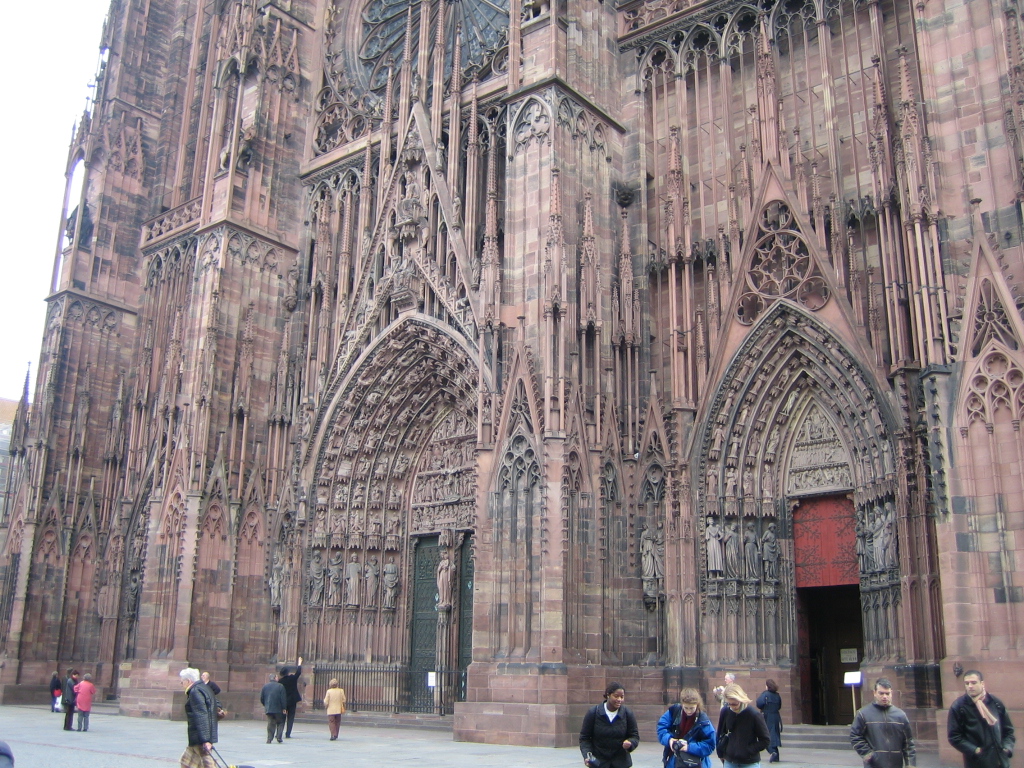 These are some typical architecture along the canal: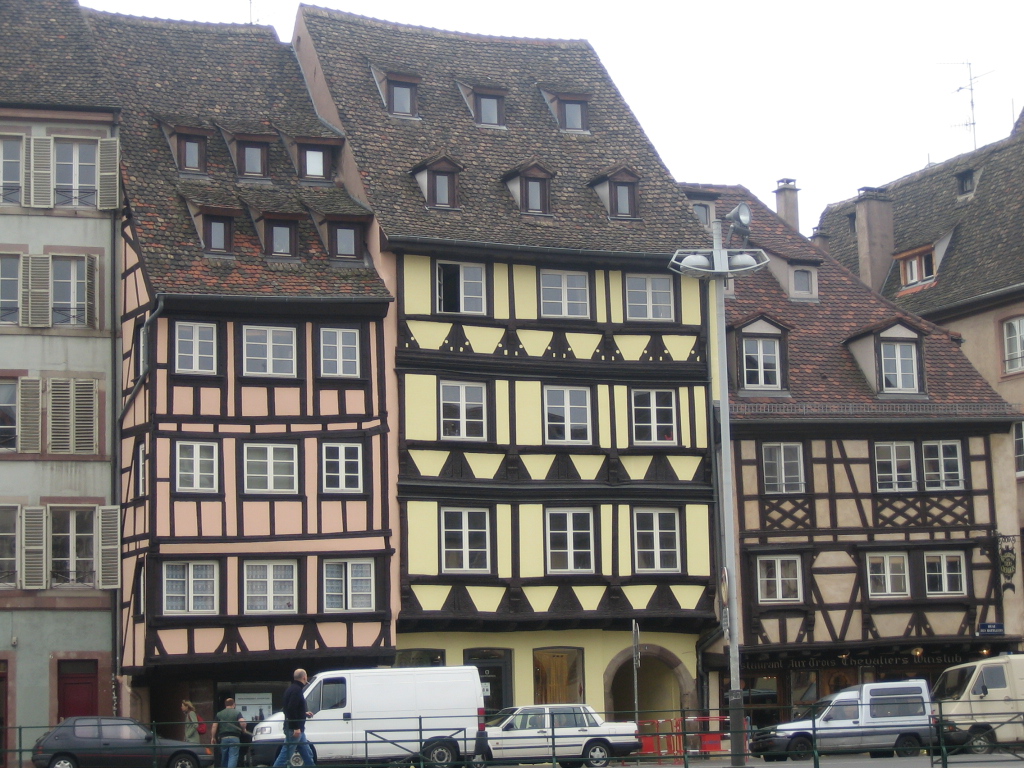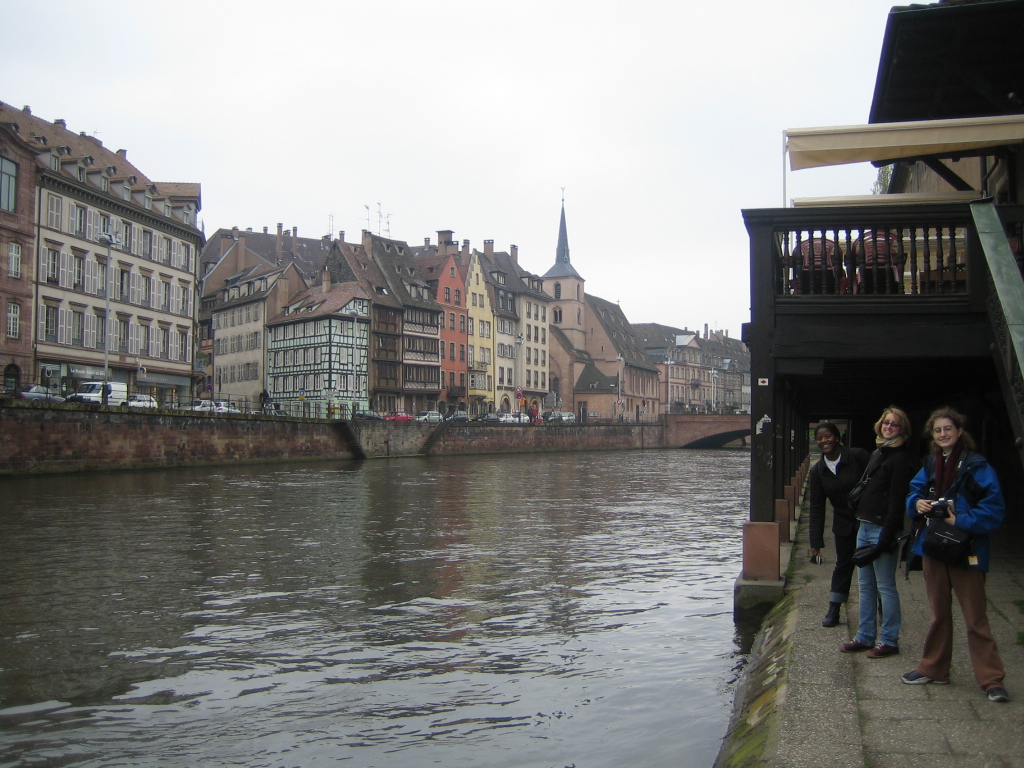 La Petite France and Place Kleiber (downtown Strasbourg):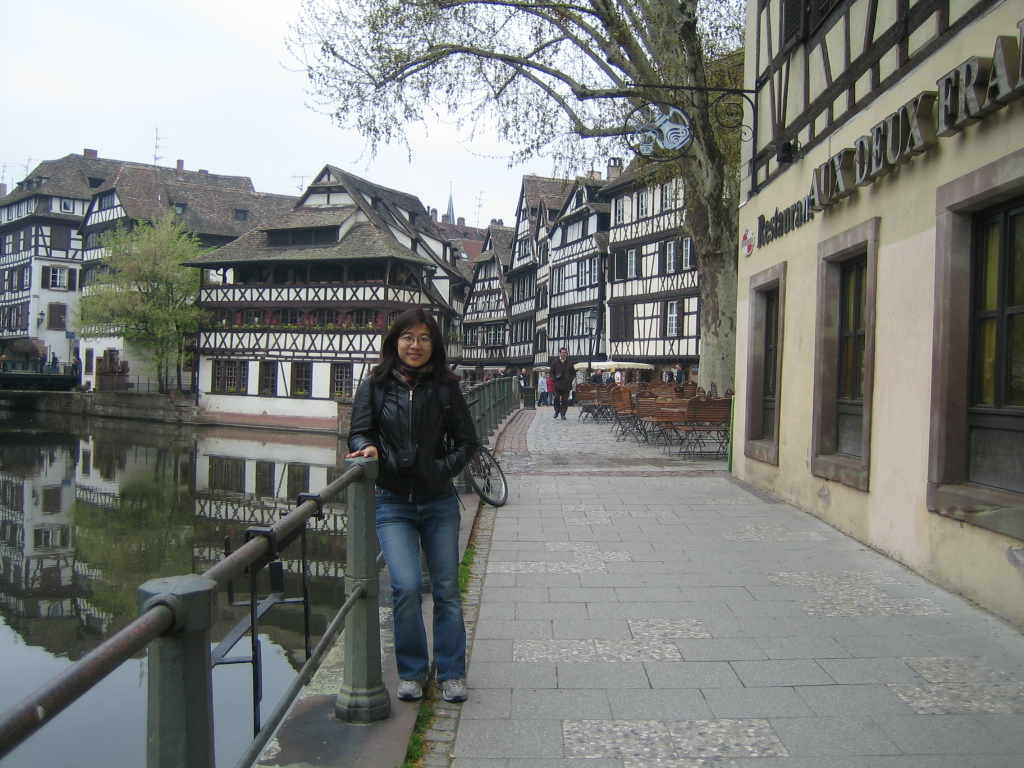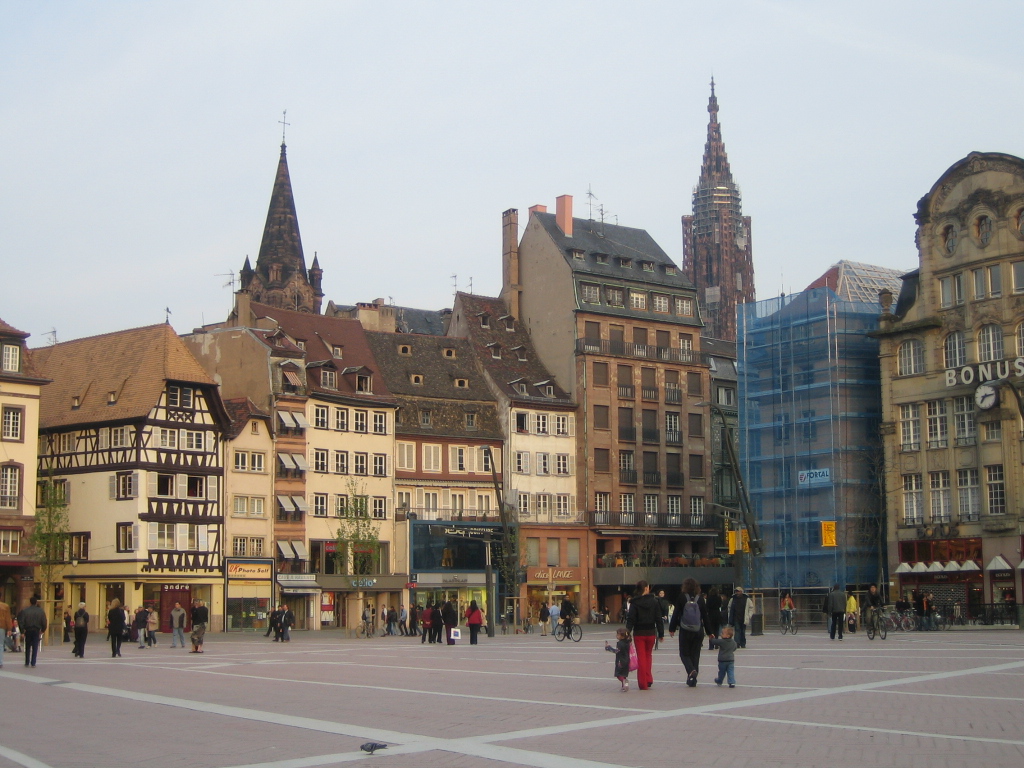 Brussels & Bruges (Belgium)
The people in Belgium have an amazing language capacity—most people spoke Flemish, English, and French. And plus the fact that it seemed like 1out of every 2 people wore suits in downtown Brussels...no wonder this is the home of the European Union. In addition, the quaint town of Bruges has well-deserved its name of "Venice of the north," with it's peaceful canals and cobble-stoned streets and swans and willowtrees dotting the serene landscape. The decadent chocolate shops and cheery-flavored beers only gives the town more to smile about. (I'm not a fan of beer in general, but even I thought Belgian beer was good!) In my 2-day short day in Belgium, I fell in love with Brussels' fluffy waffles and Bruges' chocolate truffles. :-P
The Grande Place in Brussels (it really is "grand"...though a bit...overdone):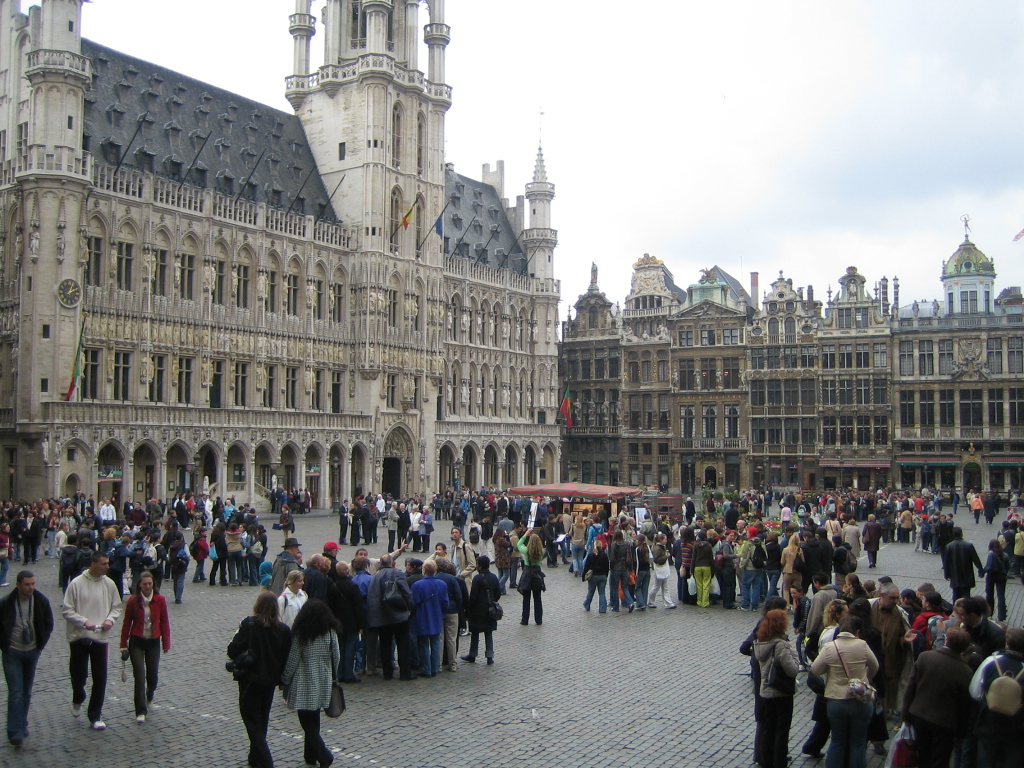 Those heavenly Brussels and Liege waffles...hmmmm: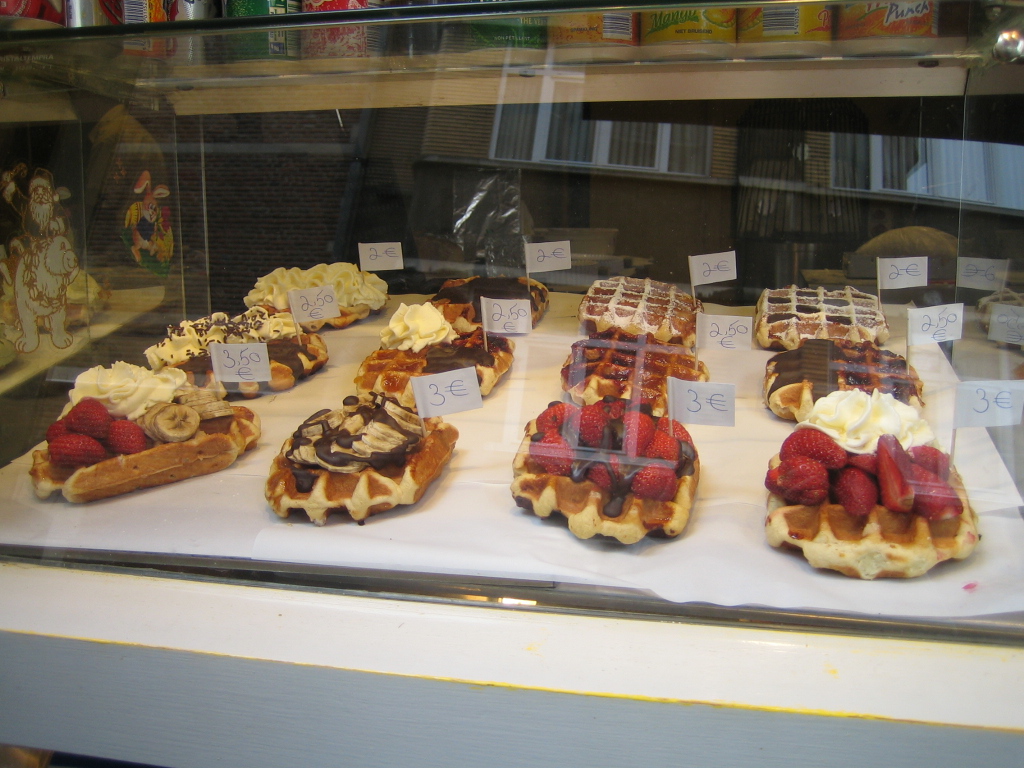 The Mannequin Pi statue with a list of its daily outfit schedule--the day we visited, it was Venezuala's Independence Day.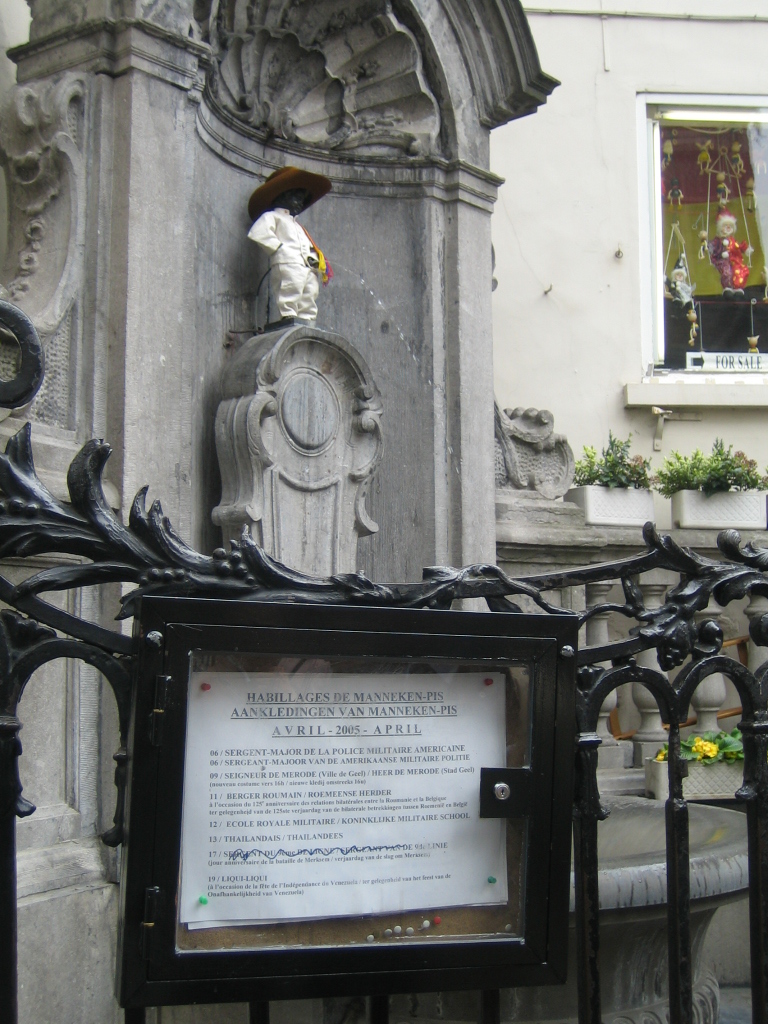 Bruges' canals and streets: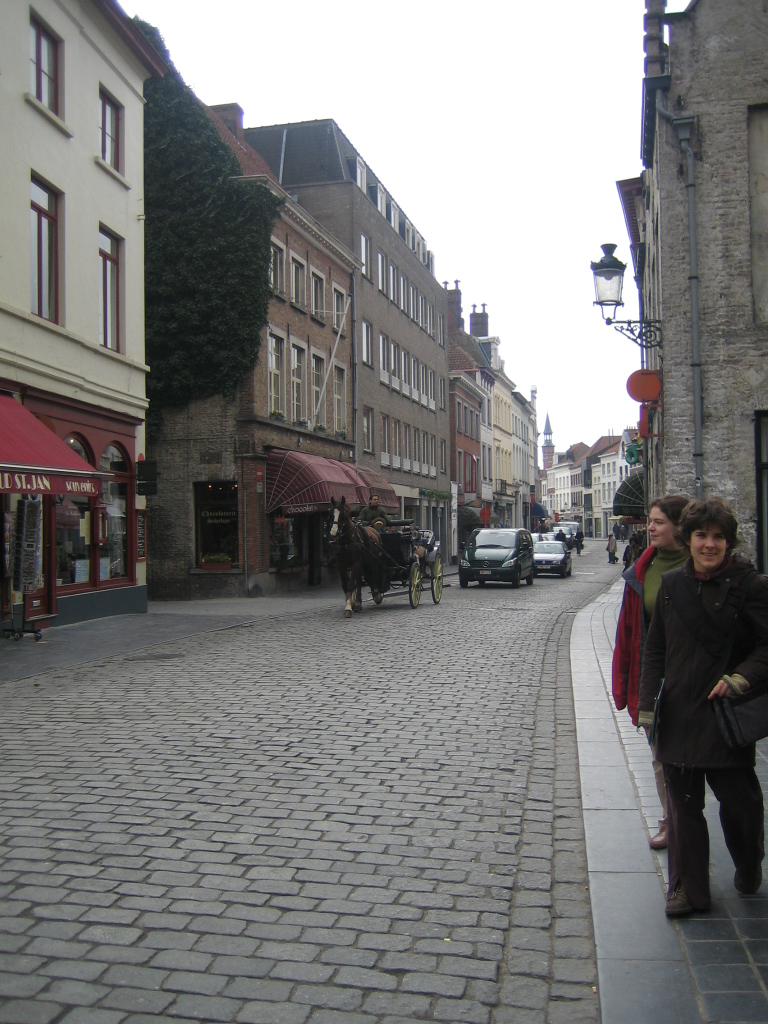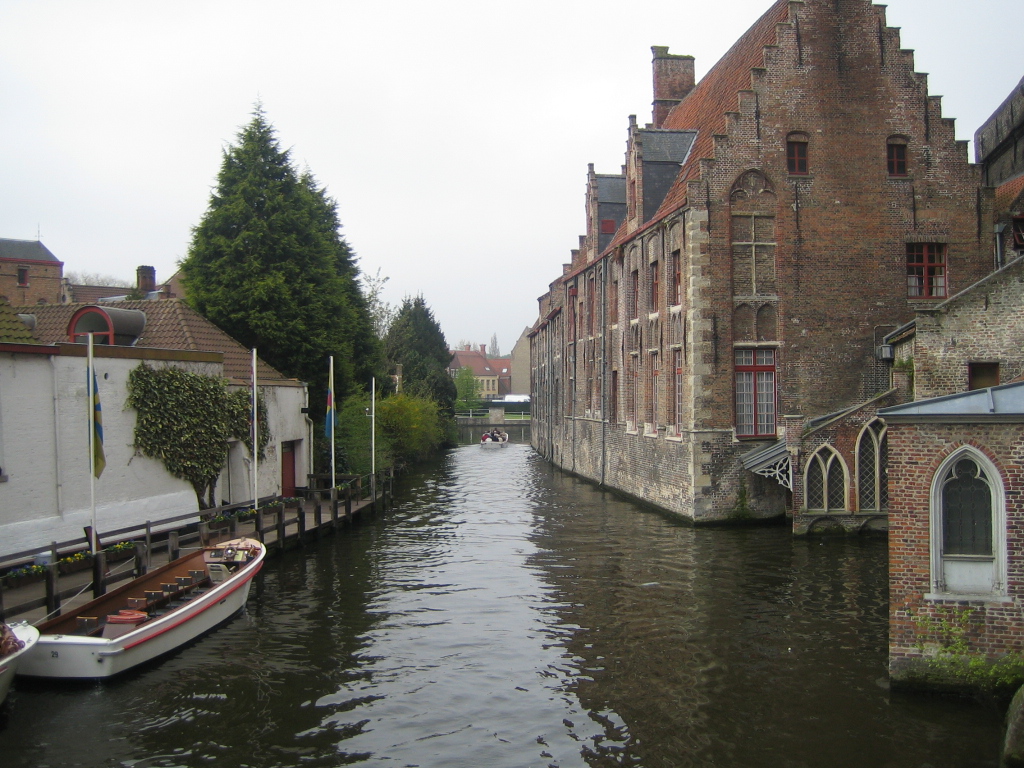 Paris
Paris is Paris—a city of lights at night, a city of hussle-and-bussle mixed with relaxing cafes during the day, and a city of tourists at all times. But it is a beautiful and elegant city nonetheless, and I love it! :-P
"Droopy"—the French LOVE dogs (just take note of all the doggie-bombs on the street and you'll know I'm right), but this is absolutely the cutest dog I've seen thus far in France: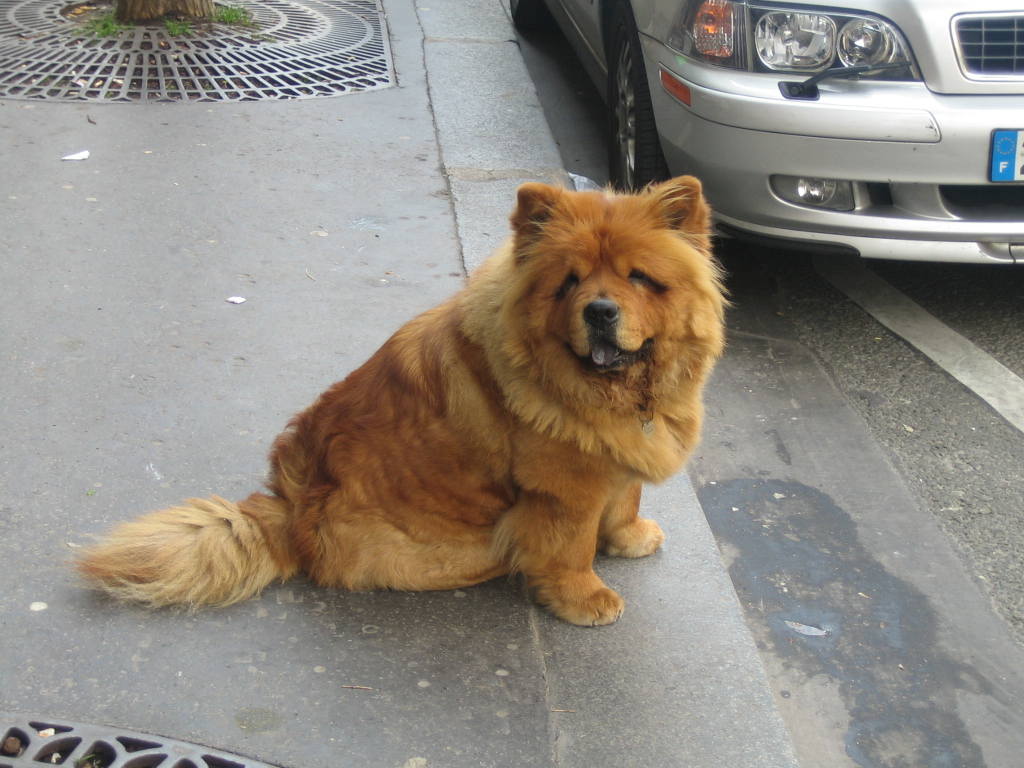 "Tourist-cycles" (enough said)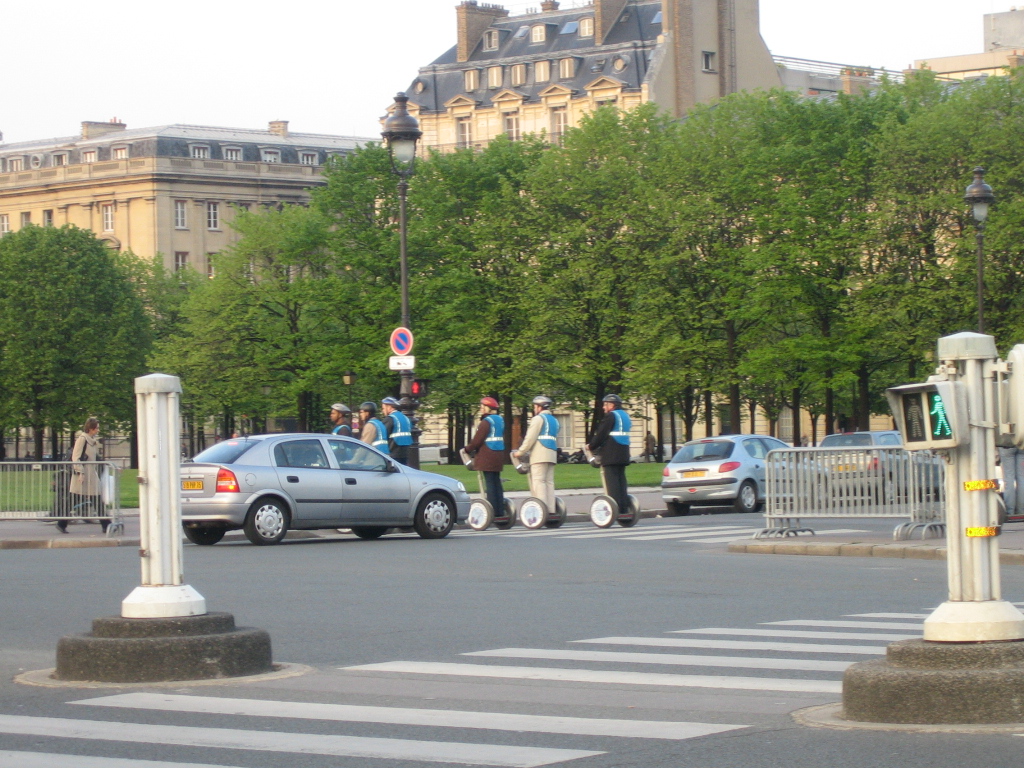 Eiffel Tour advertising Paris' candidacy for the 2012 Summer Olympics and the "thinker"—my favorite gargoylole overlooking Notre Dame: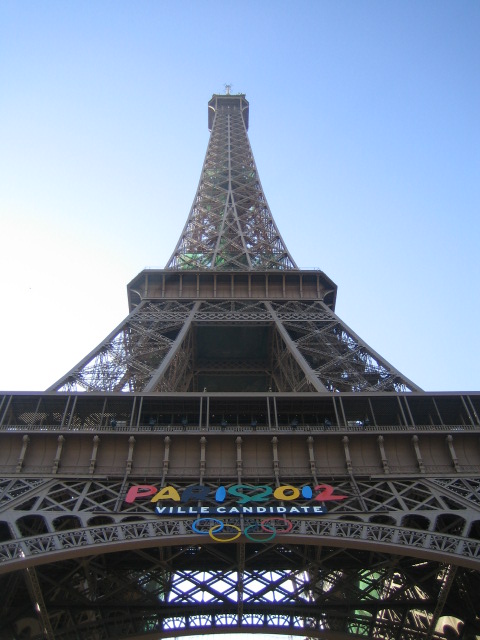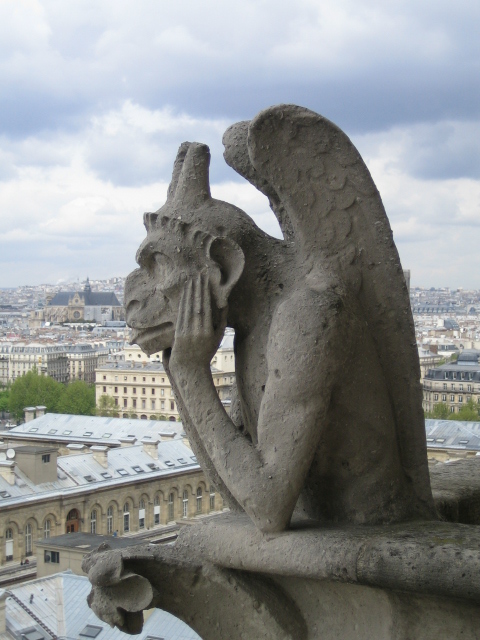 Painting of the Coronation of Josephine, displayed in the Louvre: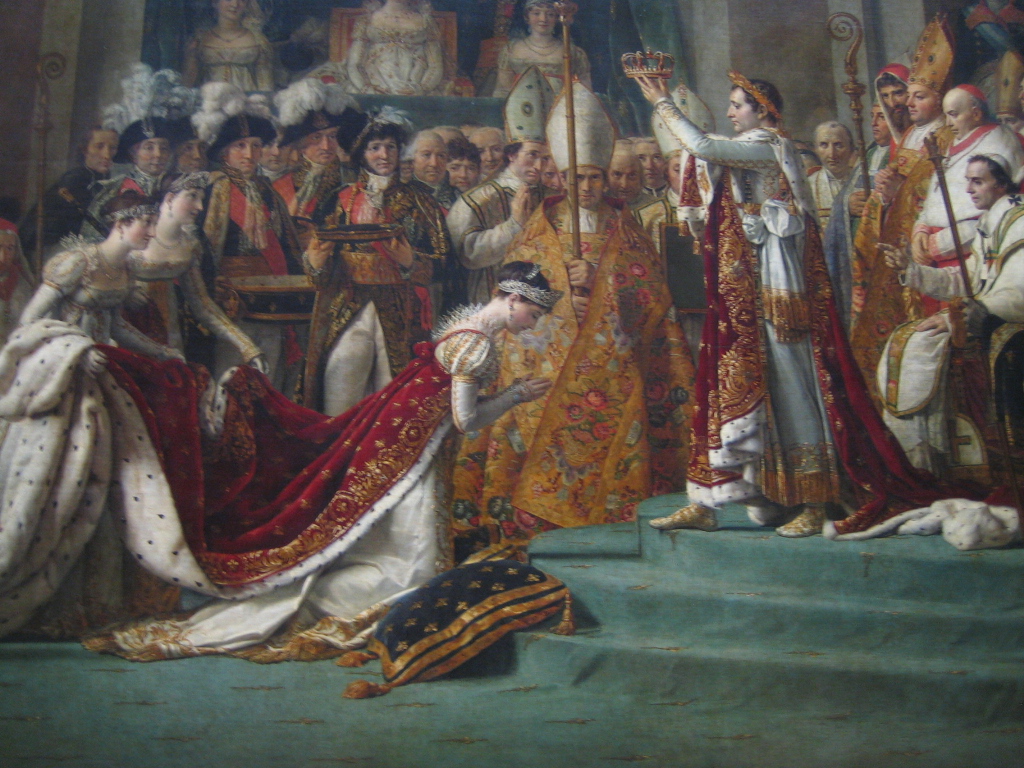 Sunset over the Seine River...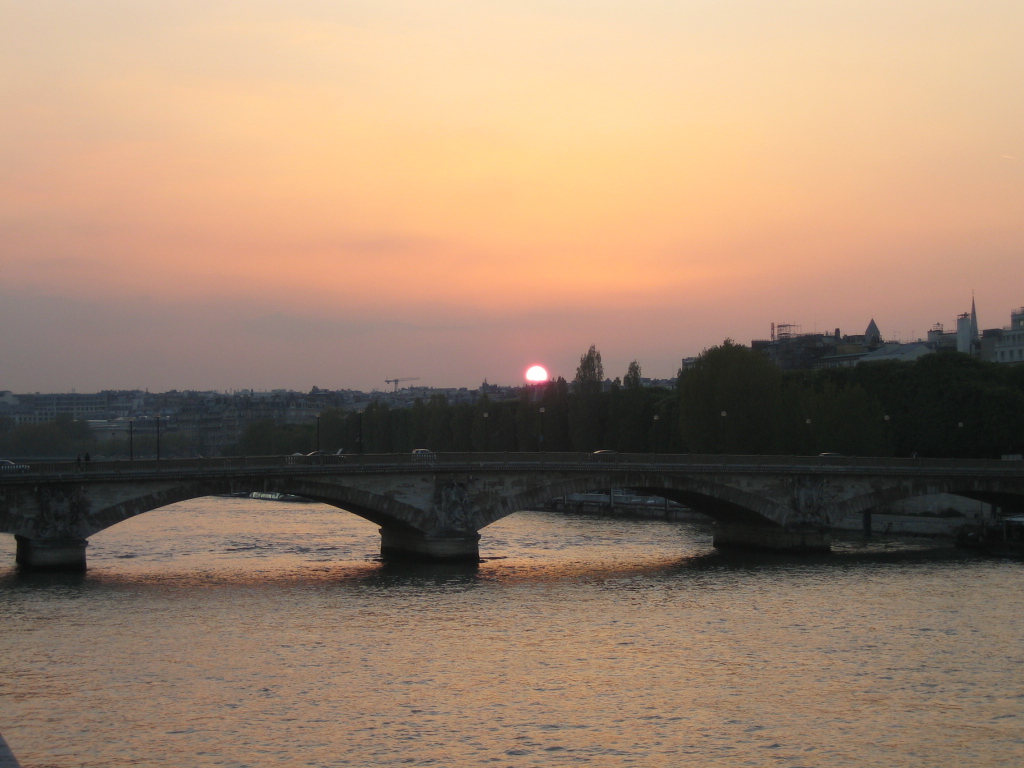 Tours
Tours, 1-hour southwest of Paris by TGV, is in the heart of the Loire Valley. Therefore, it is the perfect city from which to visit many of the renowned chateaux, or castles, of France. And that was exactly what we did: a tour bus took us to 6 chateaux in 1.5 days. You would think we'd be castled-out after about 3, but no, thanks to the uniqueness of each. :-P
The 6 castles we visited included Ambroise, Chenonceau, Cheverny, Chambord, Villandry, and Azay-le-Rideau. But my favorites were Chenonceau, Chambord, and Villandry.
Chenonceau is nicknamed as "the ladies' castle," because it was mostly designed by aristocratic female architects, the two most well-known ones being Diane de Poitiers and Catherine de Medici. Catherine de Medici was the wife of Henri II while Dianede Poitiers was Henri's longtime mistress. And Chenonceau became the gift that Henri II gave to Diane and then, after his death, was confiscated by Catherine. The legacy left by both women can be easily seen just by viewing the gardens left and right of the castle. Talk about involved story!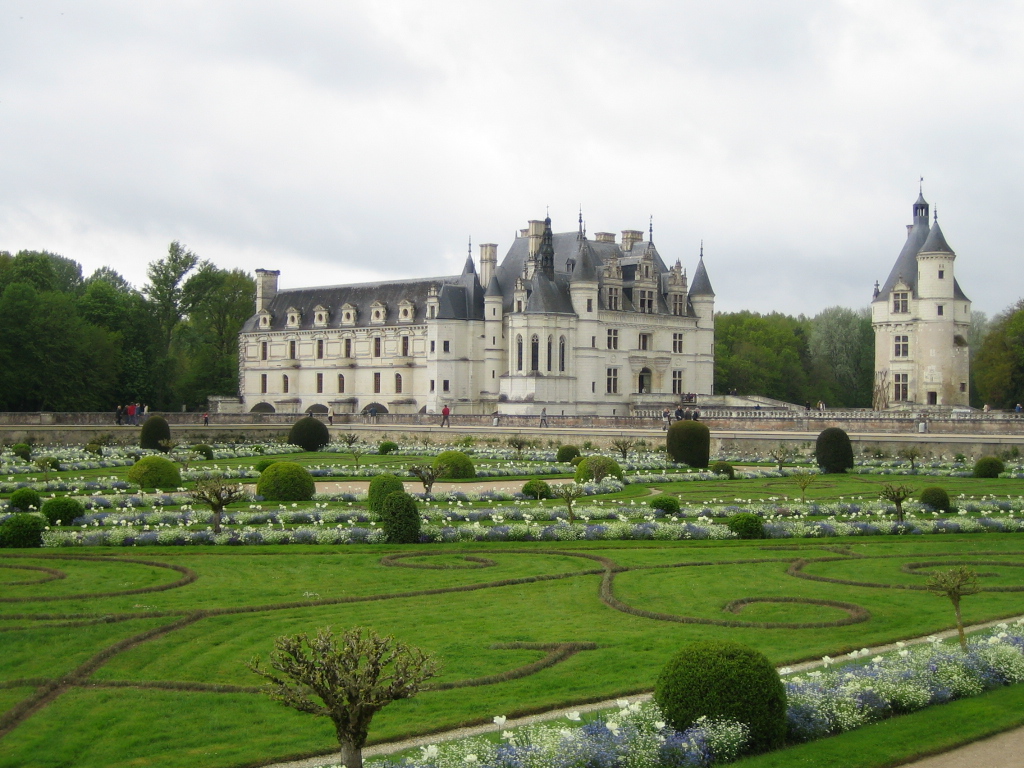 Chambord is by far the biggest castle in the Loire Valley; it was so large and maze-like that we went in circles and got lost several times. Although the interiors a bit too big for my liking, the exterior really does look magnificent. Here, you see the front exterior of Chambord and Louis XIV's bedchamber: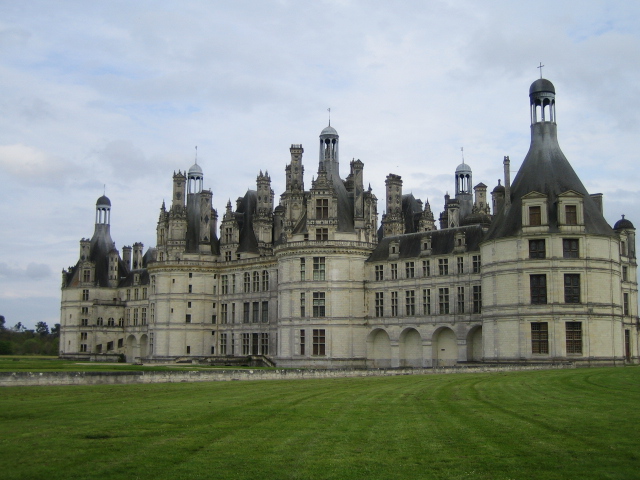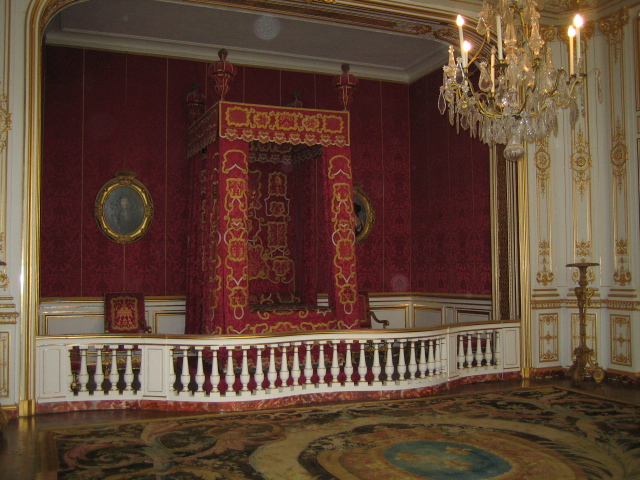 At Chateau de Villandry, one of the last Renaissance castles built, we chose to enjoy the gardens instead of the castle itself. (Okay, so perhaps we did get a bit castled-out after Chambord's megacastlemania.) But truthfully, the Villandry gardens were magnificent! The gardens are made up of three parts: the kitchen garden, the ornamental garden, and the water garden. Each of the vegetables, plants, flowers, designs, and garden arrangements had meaning behind it. The photos here show the ornamental garden as well as a bit of the kitchen garden: